N26 ist die mobile Bank. Verwalte dein Girokonto 100 % mobil und verfolge deine Einnahmen und Ausgaben übersichtlich in Echtzeit. Eröffne jetzt dein N26 Girokonto in wenigen Minuten auf deinem Smartphone und nutze es, schon bevor deine physische Karte eintrifft.
What's N26 YOU? Features At a Glance!
Free ATM withdrawals in euros
Free payments in any currency
Free withdrawals worldwide
Allianz travel insurance package
Contactless Mastercard in five different colors
What's N26 And Is N26 A Real Bank?
N26 (formerly Number 26 bank) is a German direct bank, headquartered in Berlin, Germany, that offers its services throughout most of the Eurozone and in the UK. N26 bank has also announced plans to expand to the US in early 2019.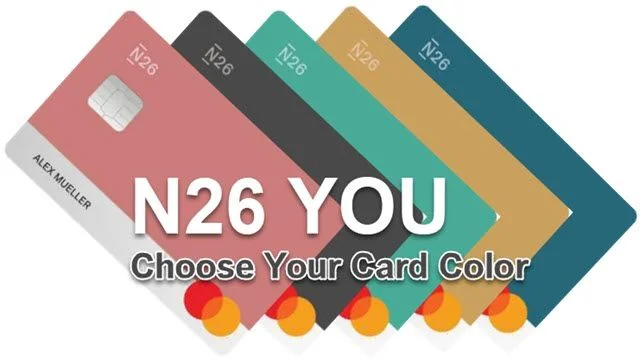 What's N26 YOU Bank Account?
N26 YOU is a seamless, personalized banking experience. A bank account that puts you at the core of everything. N26 You .. Your lifestyle, your card.
N26 YOU Bank Account, What To Get?
Comprehensive travel insurance and extended warranty on qualifying purchases
Free ATM withdrawals in any currency around the globe
No foreign transaction fees or markup costs when paying with your card abroad
A card available in 5 colors: Aqua, Rhubarb, Sand, Ocean and Slate
Extra Spaces: 10 Spaces sub-accounts alongside your main account, for reaching your savings goals
Additional cards. Get one extra card to leave at home, or to travel the world with (coming soon)
N26 YOU Insurance Package
Foreign medical expenses
– Medical expenses are covered in case of minor medical emergencies abroad
– Access to 24/7 medical phone assistance
Flight and luggage delay cover
Compensation if your flight or luggage is delayed by more than 4 hours
Theft insurance
You're covered in case of mobile phone theft, or if you're mugged within 4 hours of withdrawing cash
Extended warranty on goods
Extend the warranty of qualifying items purchased for extra peace of mind
How Much Does The N26 YOU Bank Account Cost?
An N26 You bank account costs €9.90 a month, with a minimum membership commitment period of 12 months.
What Are N26 YOU Exclusive Partner Benefits?
N26 You will also soon offer exclusive deals and hand-picked discounts from partners like: GetYourGuide, WeWork, Hotels.com, Yoox and more— all carefully curated with you in mind.
N26 Business YOU
The N26 Business You bank account is suited to freelancers and the self-employed. Building on all the benefits of N26 You, it also offers 0.1% cashback on all purchases made with your N26 Mastercard
What's The Difference Between N26 Black And N26 YOU?
N26 Black is no longer existed. N26 Black is now N26 YOU.
What Do I Need To Open An N26 YOU Bank Account?
You can open an N26 YOU account online in less than 8 minutes if:
You're at least 18 years old
You have a compatible smartphone
You can open your account if you live in one of these countries: (Germany, Austria, Ireland, France, Spain, Italy, the Netherlands, Belgium, Portugal, Finland, Luxembourg, Slovenia, Estonia, Greece, Slovakia, the UK, Poland, Sweden, Denmark, Norway, Liechtenstein and Iceland)
How To Open A N26 YOU Account
If you're new to N26 bank:
Click on the button below
Follow the step-by-step process to confirm your details
Choose your card color
Verify your identity
After a few days, you'll receive your N26 YOU Mastercard by post.
Activate your new card – and that's it!
If you already have an N26 bank account:
Open your N26 app
Go to the "Explore" section
Select N26 You and choose your card color
Confirm your upgrade
Once you receive your new card, activate it — and it's ready to use!
Is N26 Safe?
Definitely. N26 uses a three-layered security architecture:
Secure login. Your login details of both the mobile and WebApp consist of a username and password or fingerprint/face recognition.
Confirmation PIN. This 4-digit code is required every time you make a transfer or connect/disconnect your phone.
Push messages. For every incoming and outgoing payment, a push message will be sent to your connected smartphone. It's also used to confirm and finalize your transactions. N26 Bank has also added 3D Secure to protect you from online card fraud.
Is The N26 You Mastercard A Debit Or Credit Card?
The N26 You Mastercard is a debit card, which means all transactions occur in real-time and are directly debited from your N26 bank account when you make a purchase.
Can I Pay Cash Into My N26 Account?
Yes. With CASH26 you can withdraw and deposit cash for free at 11,150 retail partners across Germany. You can withdraw cash for free as many times as you want without using your Mastercard.
Explore The World With N26 YOU
N26 YOU offers hassle-free, personal banking experience that's always by your side, no matter how far you roam.